CELEBRATING OVER 100 YEARS TEACHING IRISH!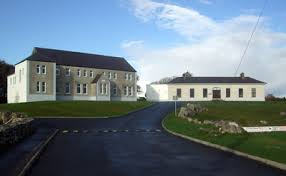 Coláiste Chonnacht is situated in An Spidéal, in the Connemara Gaeltacht, about 16km from Galway city. Irish Summer Courses have been held here since 1910.
The college is set in its own grounds which include playing fields, basketball courts, tennis court and other sporting facilities. Nearby is Spiddal beach which is supervised by a full time lifeguard during the summer.
Browse our web site for course activities, course dates and a collection of pictures from previous years.
Stair / History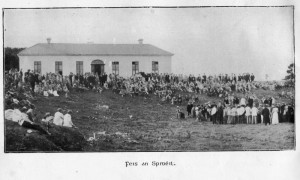 Coláiste Chonnacht was established by the Gaelic League in 1906 in Tourmakeady in Co. Mayo. It was established to train teachers in the teaching of the Irish language. The college moved location to An Spidéal, Co. Galway in 1910, where it acquired a premises in Sheeaunroe House. The college is located here to the present day.
Amongst the students who attended the college in those early days were Patrick Pearse and Eamonn De Valera. Since then, hundreds of students come to Colaiste Chonnacht every summer to learn the Irish language.
Bunaíodh Coláiste Chonnacht i dTuar Mhic Eadaigh i gCondae Mhuigheo sa mblian 1906. Ba iad Conradh na Gaeilge a bhunaigh an Choláiste chun oiliúint a chur ar mhuinteóirí i dteagasc na gaeilge. D'aistrigh an Conradh an Choláiste go dtí an Spidéal sa bhliain 1910, áit ar lonnaigh siad i dTeach Mór an tSidheáin san áit a bhfuil an Choláiste go dtí an lá inniú.
Is iomaí scoláire agus mac léinn gaeilge a tháinig go dtí an coláiste chun feabhas a chur ar a gcumas teanga ins na laethe tosaigh sin, ina measc Pádraig Mac Piarais agus Eamonn de Valera. Ó shoin i leith tagann na céadtha mac léinn go dtí Coláiste Chonnacht gach samhradh ag foghlaim gaeilge.
Centenary Book 
Coláiste Chonnacht, An Spidéal, Co na Gaillimhe was founded by Conradh na Gaeilge (The Gaelic League) in 1910  as an Irish language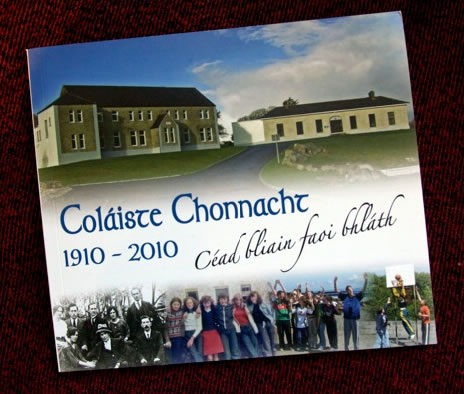 summer school in the Connemara Gaeltacht. We celebrated our centenary in 2010. To mark the occasion we published a book which traces the history of the Coláiste since its foundation. It features articles on the founding  members as well as the memories of many of our past pupils. It has hundreds of interesting photographs some of them going back to the first course in the summer of 1910. It includes a montage of photographs of students who attended the summer courses in recent years.
Bhunaigh Conradh na Gaeilge Coláiste Chonnacht sa bhliain 1910. Rinne muid comóradh ar an ócáid dhá bhliain ó shin le leabhar a fhoilsiú a chuireann síos ar stair an Choláiste ó bhliain a bunaithe i leith. Tá ailt  ann ar bhunaitheoirí an Choláiste agus cuimhní cinn ó iarscoláirí. Ta cúpla céad pictiúir sa leabhar agus tá cuid acu ag dul siar go dtí an chéad chúrsa i mí Lúnasa 1910. Tá sraith pictiúir ann de scoláirí a d'fhreastal ar an gColáiste le blianta beaga anuas.