CÚRSA ATÁ UAIT / CHOICE OF COURSE
Cúrsa A:  04/06/23  -  25/06/23 (1st and 2nd year students only)
Cúrsa B:  28/06/23  -  19/07/23 (Primary, Pre-Junior Cert and Pre Leaving Cert students)
Cúrsa C:  23/07/23  -  06/08/23 (Primary, Pre-Junior Cert and Pre Leaving Cert students)
CURSAÍ SPEISIALTA / SPECIAL COURSES
5th year/Pre-leaving Certificate Students
Intensive preparation for Oral examinations by teachers who are experienced examiners for these examinations. The Oral Irish exam now accounts for 40% of all marks of the Leaving Cert Gaeilge exam. We will have two courses, namely Cúrsa B (28/06/23 - 19/07/23) and Cúrsa C (23/07/23 - 06/08/23) that will cater for those in preparation for the Oral Irish exam.
Junior Certificate Courses
The Junior Certificate course requires the student to have a good knowledge of spoken Irish. Our courses at Coláiste Chonnacht are prepared by teachers with the exam format in mind. We will place special emphasis on topics linked to the students own life and surroundings.
Special Course for Primary School Students
We provide a special course for primary school students paying particular emphasis on students going into second level during the coming school year.
TÁILLE / FEE
Cúrsa A & B - full fee is €1,175.
Cúrsa C - full fee is €925.
This covers full accommodation, tuition fees and local transport where and when necessary.
The Deposit Payment on each of Cúrsa A, B and C is €250.
Deposit payments via our website are subject to a €4.50 online booking fee.
The balance is to be forwarded on receipt of notice from the Coláiste and prior to commencement of course.
Any cheques or postal orders should be made payable to Coláiste Chonnacht.
Refunds: Applications for refund must be accompanied by a medical certificate. An administration fee is non-refundable in all cases. No refund can be made in the case of non-completion of course or in cases of student dismissal. Please refer to our cancellation policy in our Terms and Conditions.
Optional extras: Trip to Aran Islands and watersport activities.
FOIREANN / STAFF
The College is staffed by a Principal, Teachers and Ardchinnirí (senior student assistants). The ratio of staff to students on average is 1:12. The Department of Education determine the qualifications and sanctions the appointment of all staff. The courses are inspected regularly by the Department of Education inspectors. The majority of staff are native Irish speakers and all staff are required to have suitable experience in teaching Irish to students of varying levels of competency.
CLOTHING AND TRAVEL ARRANGEMENTS
It is very important that every student should bring suitable waterproof clothing to the College - windcheater, plastic mac or raincoat and headwear. Sportswear and musical instruments should also be brought and sports equipment (hurley / helmet / gumshield, tennis racket, etc.)
All particulars regarding further course information, travel and accommodation will be forwarded 2-3 weeks in advance of course.
RIALACHA SPEISIALTA/SPECIAL COLLEGE RULES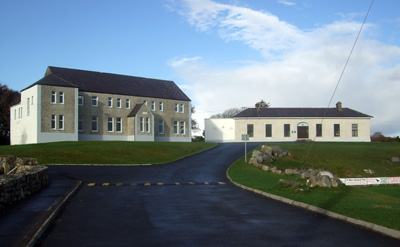 The primary aim of our courses is to enable the students to achieve real progress in Irish in an atmosphere of relaxation and enjoyment. However, there are a few rules which have to be strictly, though fairly, enforced and we wish these to be brought to the students and parents attention before coming to the College since contravention of any of these will result in expulsion from the course and forfeiture of fees.
Students must speak Irish throughout the course.
Smoking is strictly forbidden.
Entry into licensed premises of the consumption of possession of alcoholic drink or drugs at anytime during the course is strictly forbidden.
Students are not allowed to leave the jurisdiction of the college without special permission.
Students may not be absent from guesthouse after 10pm without special permission.
Serious company-keeping is not allowed and it is left to the discretion of the Principal to deal with sensibly and in the best interests of students, parents and the college.
Misbehaviour, verbal or physical intimidation, whether intentional or otherwise will not be tolerated. Students who cause serious disruption or who refuse to accept normal discipline will be expelled from the course.
LABHAIRT NA GAEILGE / SPEAKING IRISH DURING THE COURSE
The primary aim of these courses is to help the students achieve an adequate fluency in the Irish language and a better understanding of the life of the Irish-speaking community in the Gaeltacht. To ensure that parents and students get full value for money we shall insist on strict observance of our guidelines regarding the speaking of Irish throughout the course. Special help and encouragement will be given to students with little or no fluency in the language but a sincere effort can work wonders! Students who do not co-operate in this regard will be sent home without refund of fee as they deprive other students the opportunity of benefiting fully from the course.
LÓISTÍN / MNÁ TÍ / ACCOMMODATION
All accommodation arrangements are made by our office staff. The students stay in houses which have to be approved by the Department of the Gaeltacht before being accepted by the college. The amount of space to be allocated to each student is determined by the Department's Inspector. Each student has a single bed.
REFUNDS
Please see our cancellation policy within Terms and Conditions link below.