DAILY PROGRAMME & ACTIVITIES
10 am - 1.30pm: Ranganna / Classes
There are four classes each morning from Monday to Saturday.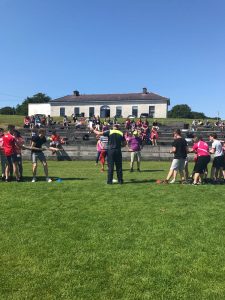 Our classes aim not only to improve the students' fluency in the Irish language but also to improve their confidence in speaking the language. Our classes have been designed to be enjoyable and relevant for the students. All levels of ability are catered for on our courses. The primary focus of our courses is on spoken Irish but the topics we cover in our classes will also benefit students' in the aural exam as well as Irish paper 1 (comprehension & composition). Since 2012 the oral exam is worth 40% of the Leaving Certificate Irish exam at both Higher & Ordinary level. There is also an optional oral exam at Junior Certificate level worth 20% of the overall grade.
There are no classes on a Sunday morning but we do have afternoon activities and evening activities (as detailed below).
2.30pm - 4.30pm: Imeachtaí Iarnóna / Afternoon Activities
We offer a wide range of supervised afternoon activities including: soccer, gaelic football, basketball, tennis, volleyball, unihoc, table tennis, rounders, local walks, dancing, drama, art, games (indoor and outdoor), music practice etc. We also introduced Zumba dance classes which have been very popular with the students.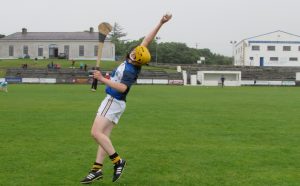 All of our sporting facilities are based on-campus. We have a full size football pitch, a training pitch, playing courts, an indoor games room as well as two indoor halls.
We also provide students with the opportunity to take part in lasertag 'as Gaeilge' at a local activity centre. Students will be transported by bus to the centre and supervised by our staff.
On each course we host the Road Safety Authority (RSA) Shuttle bus and Roll Over Event. RSA staff deliver an important road safety experience to students.
We encourage students to bring musical instruments, dancing shoes or sports equipment with them. There will be ample opportunities to put them to use during the course.
We are located near Spiddal beach and we offer supervised swimming, weather permitting.
7.30pm - 9pm: Imeachtaí Oíche/ Evening Activities
Evening activities include céilí dancing, talent shows and sketches.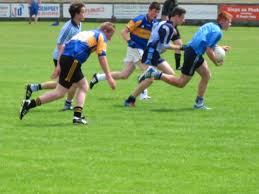 We also have themed céilí nights - black & white céilí, fancy dress and even a county céilí where you can wear your county colours!
10pm - Seiceáil na dtithe/ Checking of houses
Each teach lóistín (guesthouse) is visited every night by a teacher. As per college rules, students may not be absent from their guesthouse after 10pm.
GNÉITHE GINEARÁLTA / GENERAL FEATURES
Céilí Dancing: 4 nights per week. Instruction is given by teachers.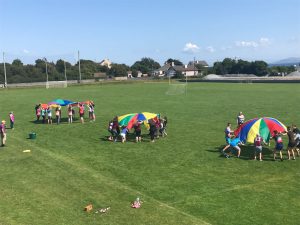 Swimming: Supervised swimming takes place at Spiddal beach which is a safe, sandy beach located near the college. Students are always accompanied by teachers on visits to the beach.
OPTIONAL ACTIVITIES
Tour to Aran Islands.
Watersports such as Windsurfing, Kayaking and Stand Up Paddleboarding (SUP), if available.