Cúrsa B & Traidphicnic 2017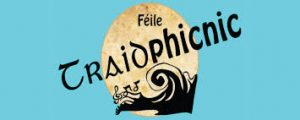 Coláiste Chonnacht are delighted to announce Cúrsa B students will be attending Traidphicnic 2017.
Traidphicnic is an annual traditional music, arts and culture festival which takes place at the Ceardlann in An Spidéal from 30th June to 2nd July.
This year's festival boasts an impressive line up with, among others, well known musicians Kíla headlining on Saturday 1st July. Students from Coláiste Chonnacht have also been invited to perform a song with Kíla during their show!!!
Coláiste Chonnacht are delighted to support and sponsor Traidphicnic once again and wish the organising committee the best of luck again this summer!
For further details on Traidphicnic please click here or to check out their video click here!
Go n-éirí libh!